HUGE SALE - MOST ITEMS 20% to 60% OFF !!!
PLUS FREE GIFT RETAIL VALUE OF $20.00 OR MORE FOR ORDERS OVER $500.00
OR FREE GIFT OF $40.00 OR MORE FOR ORDERS OVER $1000.00 !

On January 1, 2014 the order buttons will not work! Our e-commerce provider is closing shop and we are having to move to a new e-commerce site. We received only 2 weeks notice over the holiday! It will take us awhile to change all the coding throughout our website to convert to the new system. Sorry for the inconvenience. Once converted the order buttons will work great and you will be able to order those special items for yourself or others. We expect the conversion will be ready by March 15,2014. Sorry for the inconvenience. Please check back in March.

We usually ship once per week via USPS Priority Mail which usually takes 2-3 business days from the ship date.

Sorry but we are unable to sell items to people who have a foreign credit card and/or address. Since the banking privacy laws changed in 2005 we have not able to obtain full credit card approval which includes address verification. Sorry for the disappointment.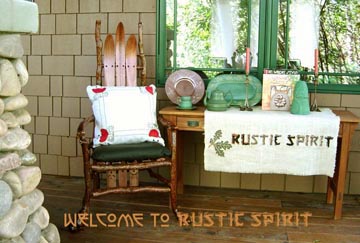 THANK YOU FOR YOUR BUSINESS !!

TO ORDER PLEASE CLICK ON THE ORDER BUTTONS PROVIDED FOR THE FASTEST SERVICE
OR CALL OUR TOLL FREE NUMBER- 866-649-4799
MONDAY TO FRIDAY 11 AM TO 6 PM EST. THANK YOU.
Copyright © 2001 - 2014 RUSTIC SPIRIT, L.L.C.
"Never doubt that a small group of thoughtful citizens can change the world. Indeed, it is the only thing that ever has."
Margaret Mead
"In our every deliberation, we must consider the impact of our decisions on the next seven generations." From the Great Law of the Iroqois Confederacy as quoted on Seventh Generation household products.
PLEASE RECYCLE AND CONSERVE ENERGY!!!
We recycle everything we can - paper, cardboard, boxes, newspapers, plastic, aluminum cans, glass, non protein left over food (via composting) and those helpful packaging peanuts. Please do not drink bottled water because all the plastic bottles create huge landfills and the oil and energy needed to make a bottle is tremendous. We try to reduce our energy consumption by doing simple things like turning off lights and equipment not in use and using energy efficient light bulbs. When we drive we do multiple tasks at one time to conserve fuel.
Please help all of us by doing the same. Every little bit helps us all!

Read more about bottled water from NATIONAL GEOGRAHIC
ORGANIZATIONS HELPING GLOBAL WARMING
THANK YOU, RUSTIC SPIRIT